The French Polynesian marine mammals education centre
The Moorea Dolphin Center is located in Moorea, sister island of Tahiti, in French Polynesia.
Our dolphins are living in the beautiful turquoise water of the pristine lagoon in the North West of the island.
Our philosophy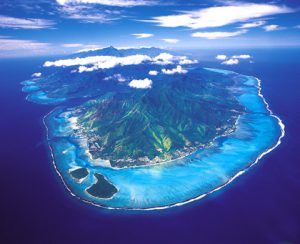 For more than 25 years, the Moorea Dolphin Center offers educative and interactive programs with their dolphins to better understand and respectfully approach these magnificent marine mammals.
Our programs have been carefully developed with the help and expertise of local and international specialists in order to respect the quality of life of our animals leaving in a natural enclosure.
Our philosophy is to raise public awareness by doing interactive programs with our dolphins.
Our residents
The residents of the Moorea Dolphin Center are bottlenose dolphins (Tursiops truncatus). They belong to the order cetacea and the suborder Odontoceti (cetaceans with teeth).
Bottlenose dolphins are found in temperate and tropical waters around the world, missing only from polar regions. they are primarily coastal animals, living in shallow bays and estuarine habitats and, occasionally, they venture into rivers for short periods not lasting over several days.
The bottlenose dolphin has a medium size and robust body. The coloration ranges from a light gray to black dorsal side with a light belly (ventral side) that is sometimes pink in color. .
The size varies from 2 to 3.8 meters for an average weight of about 500 lbs
Bottlenose dolphins are known to live over 40 years, females usually living longer than males. Their average life span both in the wild and in human care is 25/30 years. However, it is not uncommon to find dolphins over their 50's in some facilities accredited by the Alliance (AMMPA) .
KUOKOA :
His name means « Independant » He was born on 4th of July 1994 at Dolphin Quest Big Island facility, Hawaii .
He arrived at the Moorea Dolphin Center in 1997, and was 3 years old at this time
He now measures about 2.70 m long and weighs 470 lbs.
He is Lokahi's half brother.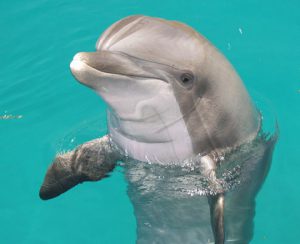 HINA:
She is the only female of the facility and no doubt the one in charge.
She was born in the year 1978 from the north Atlantic ocean, and arrived at the US Navy's marine mammal program, San Diego at nearly 5 years old.
She arrived at the Moorea Dolphin Center in 1996, she was 18 years old at this time
She measures 2.60 m long and weighs approximately 450lbs.
Our programs
MANEA
This program will allow you to meet our dolphins by evolving in the lagoon between shallow and deep part according to your comfort.
Join along with us and share an educational and emotional experience.
Information & Rates
Information
Details
Schedules
10.30am – 1.30pm everyday
Duration
30 minutes :

15 min. orientation & learning
15 min. interaction with one of our dolphins

Requirements
From 2 years old.
Children under 8 must be accompanied by a participating adult.Swimming allowed from 8 years old with a participating adult.
Restrictions
Pregnant women are not allowed
Number of participants
6 persons maximum
| PAX | Rate |
| --- | --- |
| Adult (up to 12 years old) | 16 200 XPF / 136 € |
| Child (2/11 years old) | 10 600 XPF / 89 € |
| PAX 2024 | Rate |
| --- | --- |
| Adult (up to 12 years old) | 18 500 XPF / 155 € |
| Child (2/11 years old) | 12 500 XPF / 105 € |
GUIDED TOUR OF THE CENTER
Discover The More Dolphin Center's history by visiting our center to better understand the management of the well-being of our dolphins on a daily basis.
Information & Rates
Information
Details
Schedule
9.30am every Tuesdays & Thursdays
Duration
1 hour
Requirements
Booking is required

No visit outside those 2 days/week

Number of participants
8 persons maximum
| PAX | Rate |
| --- | --- |
| Adult (up to 12 years old) | 2 500 XPF / 21 € |
| Child (2/11 years old) | 1 000 XPF / 8 € |
Contact us
E-mail: reservation@mooreadolphincenter.com
Telephone: +689 40 56 38 76