The Moorea Dolphin Center is located in Moorea, sister island of Tahiti, in French Polynesia.
Our three dolphins are living in the beautiful turquoise water of the pristine lagoon of the InterContinental Moorea Resort & Spa.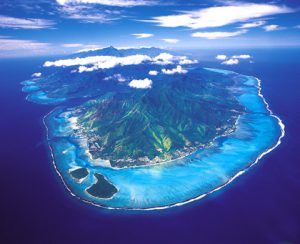 Our philosophy
For more than 20 years, the Moorea Dolphin Center offers educative and interactive programs with their dolphins to better understand and respectfully approach these magnificent marine mammals.
Our programs have been carefully developed with the help and expertise of local and international specialists in order to respect the quality of life of our animals leaving in a natural enclosure.
Our philosophy is to raise public awareness by doing interactive programs with our dolphins.
Our Center
Located in the lagoon of Moorea, our center is facing a natural reef pass that allows currents and tides to provide high quality natural sea water to our animals on a daily basis.
The temperature of the water varies depending on the season from 77 to 84°F and the water quality is controlled by an independent laboratory on a monthly basis to ensure that quality and safety norms are respected.
As the dolphin lagoon is located outdoor, the natural light cycles are respected for the animals that are constantly surrounded with local wildlife such as fish, crustaceans and corals.
The surface of the dolphin lagoon is 0.75 acres for a volume of 3.700.000 gallons natural sea salt water. The deepest part of the lagoon is 20 feet with an average of 10 feet of depth.
Different enclosures have been created allowing us to vary the lay out of the center on a daily basis. When they are not interacting with their trainers, the 3 dolphins will be socializing together having access to the different areas of the lagoon.
Their natural environment is delimited on top by floating docks connected to wire fencing underneath. This enables the water to circulate through constantly and allows the dolphin's to use their echolocation without any disturbance.
Our Team
Seven trainers are working full time with our dolphins, managing behavioral and environmental enrichment on a daily basis to insure their safety and well-being.
The animal director, as well as some of our animal behaviorists, has been working with our group of dolphins for more than 20 years.
Specific training courses regarding marine mammals and their ecosystem are regularly provided to our team that can also participate to local and international conferences.
We have contributed to several researches on acoustic, cognition, memorization and physiology of the bottlenose dolphin (Tursiops truncatus).
At night time a team of guardians watch over the lagoon to ensure the animals safety 24/7.
Present on site permanently, our veterinarian can be assisted by a team of international specialists if needed. The animals have been trained to give voluntary medical samples and routine exams include blow, fecal and gastric samples. Controlled ultrasound exams can also be scheduled if needed.
The animal's diet, composed of calamari's and fish, is closely monitored and determined depending on each animal's daily needs.
We also have an elevated medical platform that allows us to weigh the animals or take them out of the water if necessary.
We have also been solicited at multiple occasions for stranded animals found within Polynesian waters.
Our programs
During the day dolphins can participate to interactive programs with our visitors. The interactive time with clients is limited to 60 to 90 minutes per dolphin so the animals still have a lot of time to interact and socialize with each other.
We do accept groups of 4 to 6 client's maximum during the programs and the goal of the sessions is to allow clients to observe the animal's, learn about their anatomy, physiology and behaviors. We do not use music or props during the programs.
It is free to access the dolphin facility so visitors and local residents have access to the site at no charge, can see the dolphin from the beach or the bridge and enjoy all the educational material available on site.
We truly believe the value our educational programs with clients, local schools and foundations contribute to a better understanding of the actions promoting a better conservation of the oceans;
Our position…
Born in a center in Hawaii, Lokahi and Kuokoa never had to fish for food while Hina has been under human care for more than 35 years therefore their reintroduction into the wild is not conceivable.
Because of Hina's age (40 years old) we do not plan any reproduction program in our center. We do not plan to get more animals and want to focus our attention and efforts on our 3 dolphins.
The Moorea Dolphin Center strongly condemn the annual dolphin & whale hunt in Taiji Japan as well as the Feroe islands Europe and the cruelty inflicted on the animals killed or injured in the practice. The Moorea Dolphin Center cannot and do not accept animals from this or any other fisheries the purpose of which is to kill marine mammals. We urge others to join us in speaking out against this practice.
AMMPA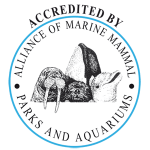 Mission: The Alliance of Marine Mammal Parks and Aquariums AMMPA is an international association representing marine life parks, aquariums, zoos, research facilities, and professional organizations dedicated to the highest standards of care for marine mammals and to their conservation in the wild through public education, scientific study, and wildlife presentations.
Members are passionate about marine mammals and, because they are experts in marine mammal husbandry, provide their animals the very best animal care.
IMATA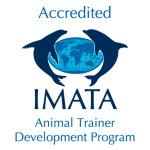 Mission :The International Marine Animal Trainers' Association IMATA is dedicated to advancing the humane care and handling of marine animals by fostering communication between professionals that serve marine animal science through training, public display, research, husbandry, conservation, and education.
Our residents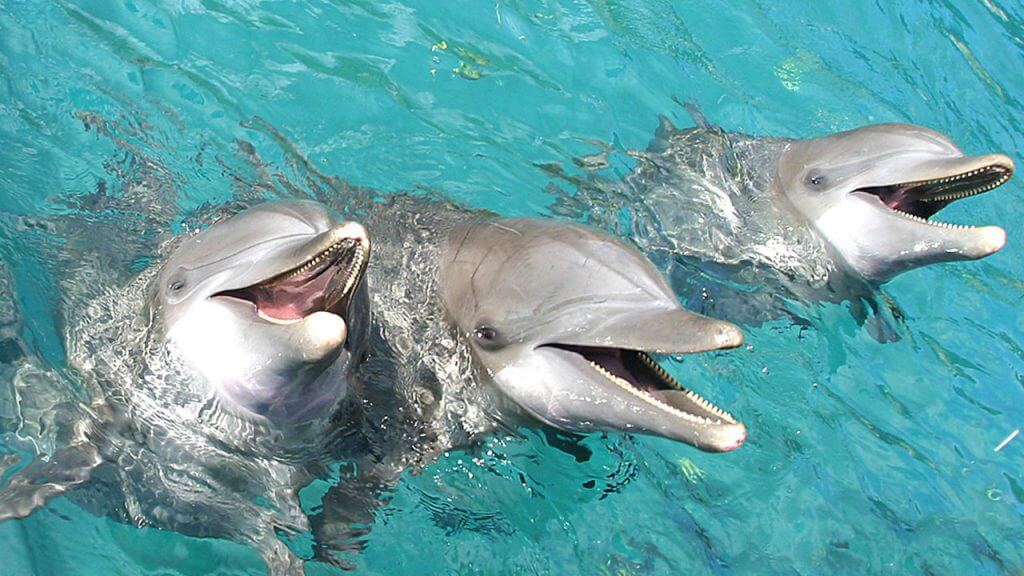 The three residents of the Moorea Dolphin Center are bottlenose dolphins (Tursiops truncatus). they belong to the order cetacea and the suborder Odontoceti (cetaceans with teeth).
Bottlenose dolphins are found in temperate and tropical waters around the world, missing only from polar regions. they are primarily coastal animals, living in shallow bays and estuarine habitats and, occasionally, they venture into rivers for short periods not lasting over several days.
The bottlenose dolphin has a medium size and robust body. The coloration ranges from a light gray to black dorsal side with a light belly (ventral side) that is sometimes pink in color. .
The size varies from 2 to 3.8 meters for an average weight of about 500 lbs
Bottlenose dolphins are known to live over 40 years, females usually living longer than males. Their average life span both in the wild and in human care is 25/30 years. However, it is not uncommon to find dolphins over their 50's in some facilities accredited by the Alliance (AMMPA) .
KUOKOA :
His name means « Independant » He was born on 4th of July 1994 at Dolphin Quest Big Island facility, Hawaii .
He arrived at the Moorea Dolphin Center in 1997, and was 3 years old at this time
He now measures about 2.70 m long and weighs 470 lbs.
He is Lokahi's half brother.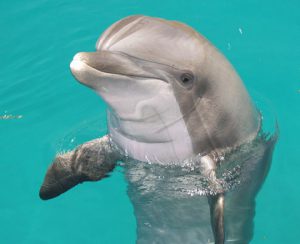 HINA:
She is the only female of the facility and no doubt the one in charge.
She was born in the year 1978 from the north Atlantic ocean, and arrived at the US Navy's marine mammal program, San Diego at nearly 5 years old.
She arrived at the Moorea Dolphin Center in 1996, she was 18 years old at this time
She measures 2.60 m long and weighs approximately 450lbs.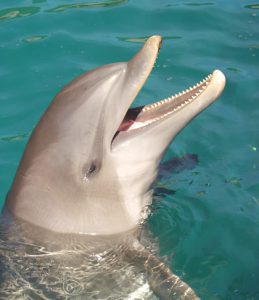 LOKAHI :
His name means « Togetherness » He was born on 8th of July 1994 at Dolphin Quest Big island facility, Hawaii
He arrived at the Moorea Dolphin Center in 1997, he was 3 years old at this time
He now measures around 2.70 m long and weighs 470 lbs.
He is Kuokoa's half brother.